About Shahroud
SHAHROUD, THE SMALL CONTINENT
Shahroud city is the capital of Shahroud County, Semnan province, Iran.
It is Situated about an altitude of 1345 m, at latitude 36°25'N, longitude 055°01'E. It's about 410 kilometers to the east of Tehran, the capital of Iran. From the north, it is surrounded by Alborz mountain range, and from the south, by the arid salty deserts. Presently, it is the largest city of Semnan Province. For a unique type of grape which especially cultivated in this city, Shahroud known as the "City of Grapes"
In 2006, traces of a prehistoric, an eight thousand years old settlements were found in pre-historical site of Deh Kheyr, located in Shahroud plain, 15 kilometers from the city of Shahroud. The discoveries included ovens, craft workshops, and other evidences of settlements. Archeological excavations in different parts of Shahroud plain indicate the existence of villages in this area during 7-5 millennium BC. Shahroud was merely a village before the reign of Fath Ali Shah of the Qajar dynasty, with two old castles and a small farm named "Shabdary". The surrounding areas however, such as Biarjomand, Miami and Bastam do have a distant history.
Some of the interesting geographical and historical attractions of Shahroud are as follows:
Khar Turan National Park or Touran Wildlife Biosphere Reserve is situated in southeast of Shahroud. It is one of the most amazing National Parks in Iran and with a size of 1,400,000 hectares (14,000 km2), it considered the second largest reserve of Iran.
Khar Turan is home to one of the largest populations of the critically endangered Asiatic cheetah. There were about 12 – 15 of these cubs in the area. However, with the increasing numbers of cheetahs in Khar Turan, there is an estimated population of between 39 and 42 individuals.
In addition, Khar Turan has the largest population of Persian onager, and two species of gazelles: the goitered gazelle and Indian gazelle, both in good numbers. There are also wild sheep and goats in the reserve. According to field observation, there are three types of dunes from dune dynamic point of view, active, semi active and established dunes, and vegetation pattern vary in each type. Vegetation cover includes some shrub species such as Calignum spp., Smirnovia turkestanica and some stable grasses such as Stipagrostis pennata, which are some indicator plants on sand dunes of studied area mixed with some shrubs or annual and perennial grasses. All the mentioned plants (dominant and scarce) play the important role in plant combination in this region. According some reports, there are some other plant species such as Zygophyllum spp. Artemisia spp. and Ferula assa foetida which are the typical Natural cover of sand dunes, also there are some species such as Tamarix spp. and Halocnemum strobilaceum which are the specific indicator plants for saline regions.
Caspian-Hyrcanian mixed forests and High peaks of East-Alborz mountain range, lie in north of the city and shape a marvelous mixture of natural elements.
JANGAL-E-ABR (cloud forest) is one of the oldest and most beautiful forests in Iran. It is the continuum of northern forests in East- Alborz mountain range and located around 40 km away from north of Shahroud. Jangal-e-abr area is overcast and foggy in most seasons. The best time to see the forest is summer and morning is the best time to take photos. Plants like oak tree, maple, milky, alder, hackberry and free pasture plant species like Tail fox and thyme are naturally grown in this forest. Jangal-e-abr is unique and considered as one of the masterpieces in the Middle East as well as the world.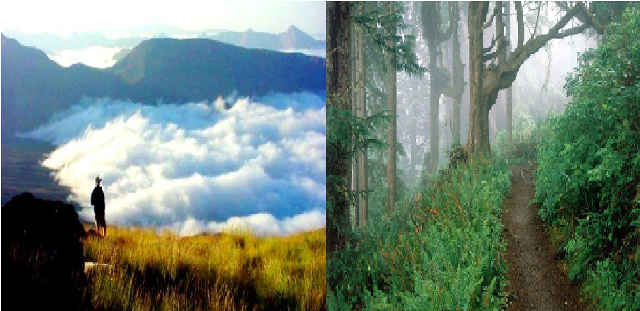 SHAHVAR peak, lies in 25 km north of Shahroud, It is near to Negarman village from north and to Tash village from south. Shahvar is the highest peak of East Alborz mountain range with 4000 m high. Every year, thousands of alpinists travel to Shahroud to enjoy rock climbing and the surrounding landscapes of Shahvar.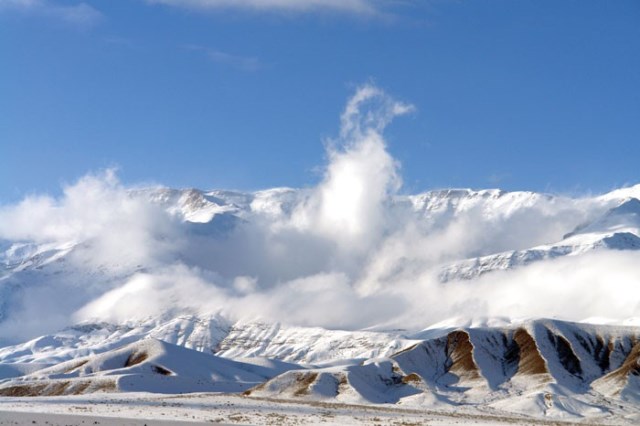 BAYAZID BASTAMI (SALJUKI) TOMB is located in BASTAM which is 6 km from north of Shahroud. Bayazid was a famous Sufi who lived in 9th A.C.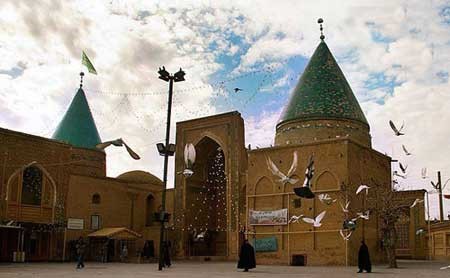 SHAIKH ABUL AL-HASSAN KHARAQANI TOMB is located in village of Kharaqan which is around 18 km away from Shahroud. Abul al-Hassan is one of the most famous Sufis who lived in 10th A.C.
SHAHROUD MUSEUM, dating from the later Qajar and early Pahlavi periods is located in the center of the town. The present museum was built in 1988 and went through a series of major repair and renovation works. It houses both archaeological and ethnological sections.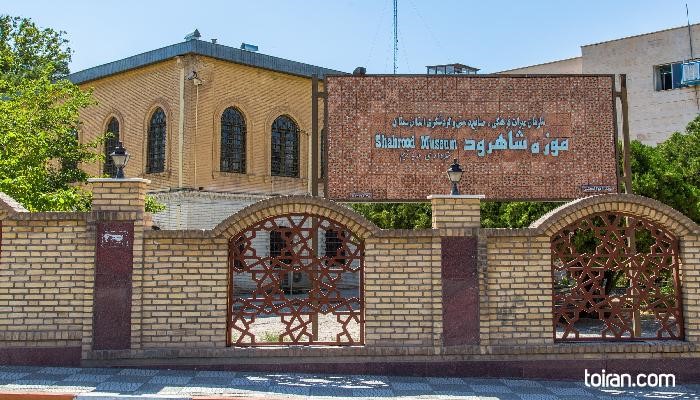 Handicraft
Iran is famous for its unique handicrafts. There are millions of Iranians involved in the production of handicrafts and other rural industries like Persian carpet, Kilim, Namad (felt carpet), Jajim ( woolen cloth), handmade and hand painted glassware and pottery items are more famous among other handicrafts in Shahroud.